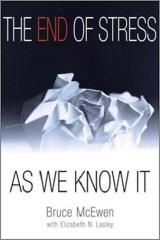 The End of Stress as We Know It
von Bruce McEwen, Elizabeth Norton Lasley
April 2004

McEwen (neuroendocrinology researcher, Rockefeller U., New York City) draws on extensive research, including his own, to explain the role of stress (or "allostatic load") in our lives and how to use it to good effect rather than be injured by it.
Kurzbeschreibung
While some stress is inevitable, being "stressed out" is not. McEwen teaches readers how to reduce stress, increase overall sense of health and well-being--and even turn aside the slings and arrows of life.

Synopsis
Financial worries, long working hours, important deadlines and bringing up children: these are all situations which modern life throws at us. If you feel stressed out then this is the book for you: it shows stress in a whole new light, as a natural bodily reaction to help you in certain situations. Although our bodies produce the "fight or flight" reaction when subjected to stress, it often seems inappropriate. Our increased heart and lung rate and the chemicals injected into our system by the brain can cause illnesses such as asthma, diabetes and being prone to infection. The End of Stress As We Know it invites us to improve our brain-body connections in an approach to healthy living based on science, not feel-good platitudes. This book enables us to use our natural abilities to cope with stress, rather than falling victim to it.